How to Choose a Blood Pressure Watch for Accurate Health Monitoring
Blood pressure watches provide a more convenient way to measure blood pressure. In many cases, their readings are not significantly different from what you'd get from a traditional device with a blood pressure cuff. However, they allow readings to be taken on the go.
But before you dive into buying one, it's important to arm yourself with knowledge about these innovative devices. Take the time to understand how they work, familiarize yourself with the key features, and pick up some handy tips along the way.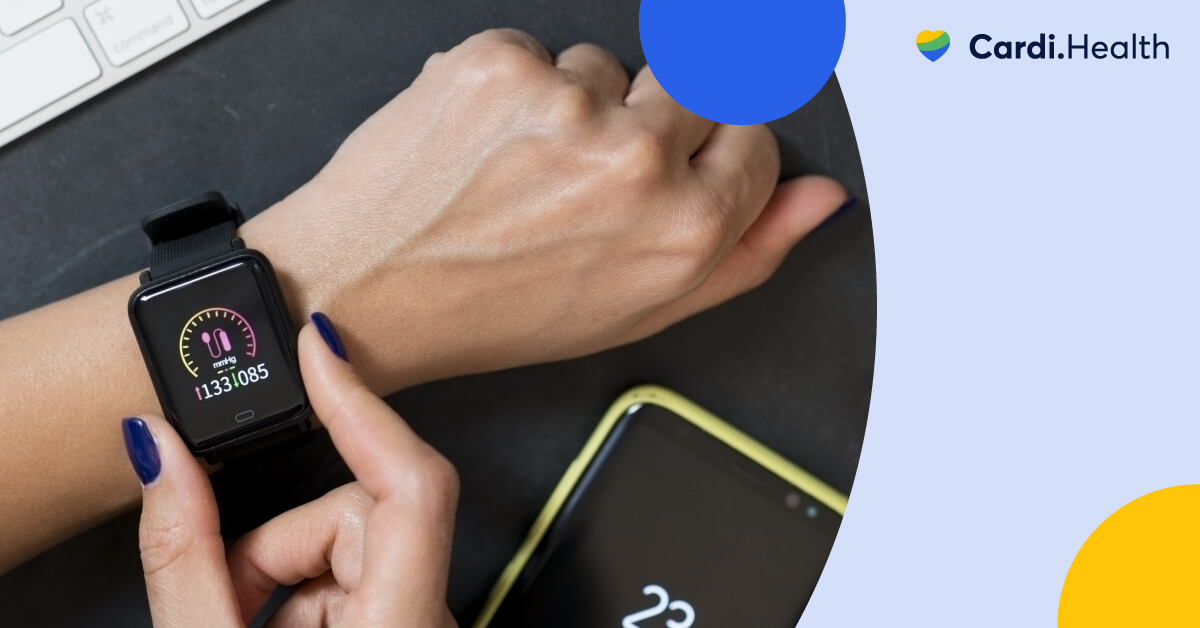 Master your heart health now
Take part in our 60sec quiz and get a heart health plan tailored just for you.
Take the quiz
How Do Blood Pressure Watches Work?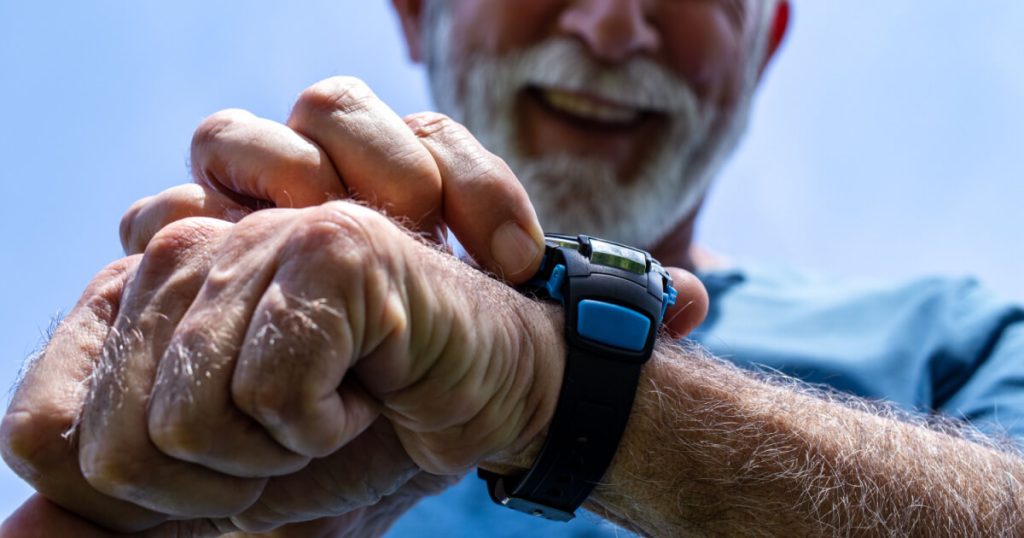 Simply put, a blood pressure watch is one that can be used to measure blood pressure. It doesn't require an arm cuff and will take your blood pressure reading straight from your wrist.
When it comes to blood pressure reading, there are two major technologies used:
Oscillometric measurement: This technology is applied to your regular home blood pressure monitor. When the blood pressure cuff is inflated around your arm, the pulsation of the major artery pushes on the cuff, slightly changing its pressure. This change in pressure determines your BP.
Photoplethysmography sensor: This is seen in smartwatches that monitor blood pressure. They use infrared light to detect changes in blood volume in arteries, which is then used to get blood pressure readings. These monitors, like the Samsung Galaxy Watch 5, have to be calibrated about once a month using an actual blood pressure monitor.
Can these be used to take your blood pressure readings every day instead of a regular home blood pressure monitor? Many studies have compared the accuracy of a blood pressure reading from a watch to one from a regular monitor.
For instance, with a high-quality watch, such as the Omron HeartGuide, you are going to get accurate results. Other watches, like Huawei Watch D, can boast similar accuracy.
Start managing your heart health now!
Find out what works for you with this 60sec quiz.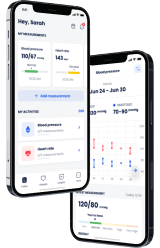 Key Features to Look for in a Blood Pressure Watch
Knowing what to look for can ease the decision process and help you choose a device that suits your needs and lifestyle. Let's take a look at the key features you should consider when buying a BP watch.
Accuracy
With high blood pressure, constantly monitoring and getting accurate readings is essential. It goes without saying that an inaccurate medical device can do more than affect your health.
Make sure you get one that is validated and clinically accurate to manage high blood pressure. It's also a good idea to consult a qualified healthcare professional to be on the safe side.
However, if you're not using it to make treatment decisions, you may not need accurate readings as much.
Comfort
Unlike a blood pressure cuff that you wear for a few minutes, a watch is worn on your wrist throughout the day, so the comfort factor is also important.
Look for watches with straps made of comfortable material that can be adjusted for a proper fit. An adjustable strap makes it more likely to get precise readings.
Connectivity
A modern medical device like a BP watch should have connectivity features like Bluetooth or Wi-Fi.
This allows the device to keep its software updated, fix bugs, and provides an easy way to sync blood pressure readings to your smartphone. It can also make it possible to receive notifications.
Battery life
It's always a good idea to have a watch that lasts a long time. That way, it's always charged when you need it. If your watch needs to be charged twice a day, you may not be able to monitor your blood pressure at times when it is most important.
Review of the Best Blood Pressure Watches on the Market
The medical device market has lots of options, which is great for consumers, but it can make shopping difficult. To take some of the hassle away, this section includes reviews of 7 great blood pressure watches.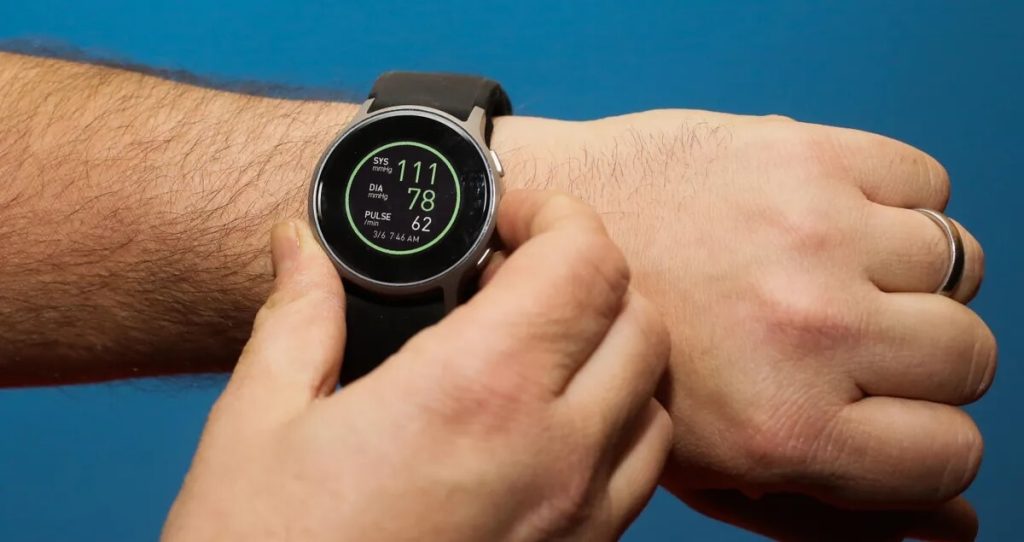 Omron HeartGuide is the first FDA-approved watch that can monitor blood pressure. It can track your sleep patterns and fitness data like calories burned and steps taken.
Its FDA clearance means you can be sure of clinically accurate blood pressure measurements. However, it is one of the most expensive blood pressure devices you can find.
This device has an inflatable cuff inside the watch band that is directly responsible for its blood pressure monitoring – which makes the band bulkier than competing products. That said, it should fit comfortably if your wrist circumference is between 160 and 190 millimeters.
This watch uses three physical buttons for navigation, and when paired with the Omron Connect app, it can keep track of your blood pressure fluctuations and provide personalized insights based on your health data.
Pros:
Has FDA clearance
The Omron Connect app makes it even more rewarding to use
Additional features like fitness and sleep tracking are useful
Cons:
Expensive
Strap sizing might not be for everyone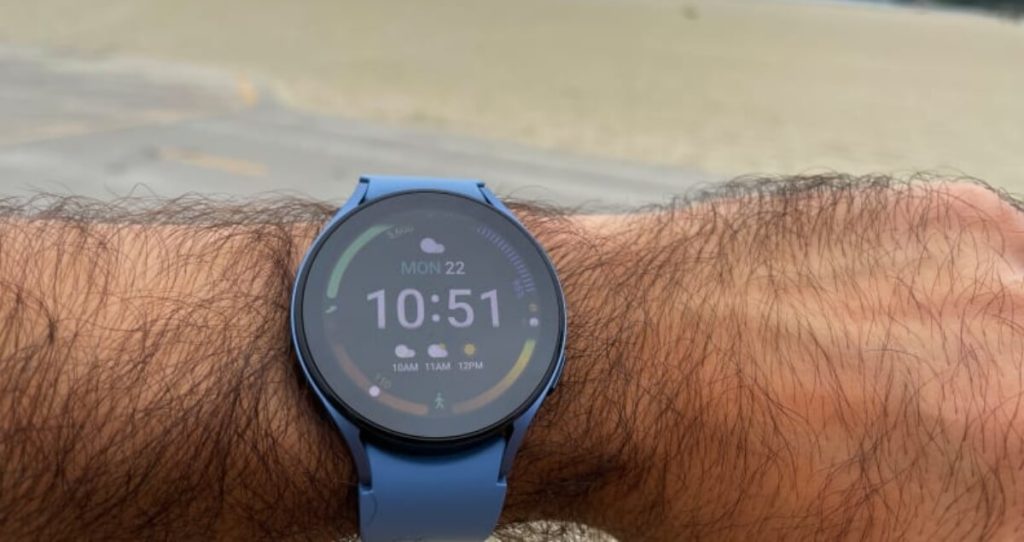 Samsung Galaxy Watch 5 is a smartwatch before anything else. But if you also need blood pressure monitoring features, Galaxy Watch 5 is the perfect option.
Using the Samsung Health Monitor app, you get access to other health features like blood oxygen tracking (SpO2) and ECG. While it doesn't have FDA clearance for blood pressure, its ECG measurement does in some ways.
This watch uses a photoplethysmography sensor. Even without FDA approval, studies showed that a previous model gave reliable blood pressure readings.
Samsung Galaxy Watch 5 gives you access to multiple watch straps, so you can find one that fits well and is comfortable. With a full-blown OS and a touchscreen on board, most people will find this device easy to get the hang of.
Pros:
Blood pressure measurements are mostly accurate
Can monitor blood oxygen levels, ECG, and other fitness metrics
Great battery life
Cons:
Blood pressure sensor has to be calibrated once a month
Some markets cannot use the blood pressure feature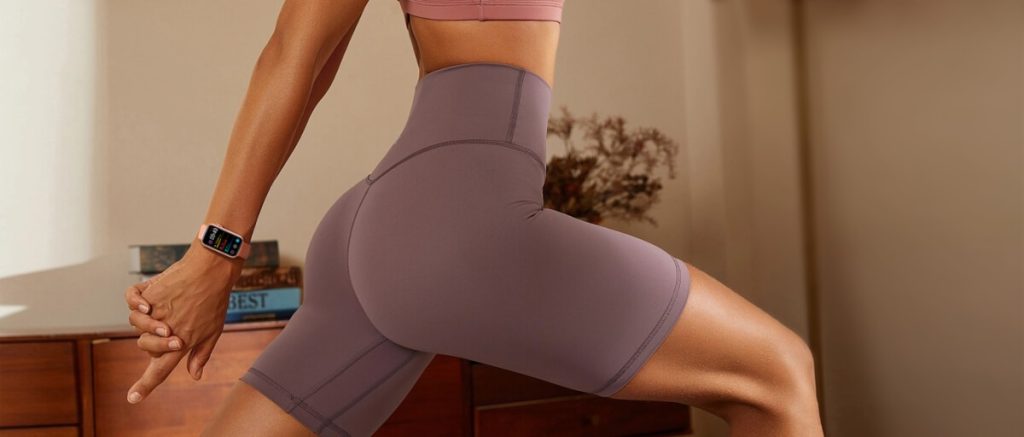 If you don't have the budget for an Omron HeartGuide or Samsung Galaxy Watch 5, the FITVII smartwatch will save you a whole lot of money.
It costs as little as most digital home monitors, yet you can check your blood pressure, blood oxygen, sleep tracking, and fitness features like calories burned. It's also water-resistant.
At this price and without FDA clearance, you shouldn't expect the highest level of accuracy with the metrics tracked. However, you can compare BP readings with a home monitor to see whether you get consistent results.
You can opt for a metal or rubber band, depending on which you find more comfortable. The battery life is great, too, as you can get away without charging it for a full week.
Pros:
Looks stylish
A variety of options to choose from
Fantastic budget option
Cons:
Depends on a paired smartphone
Accuracy may not be the best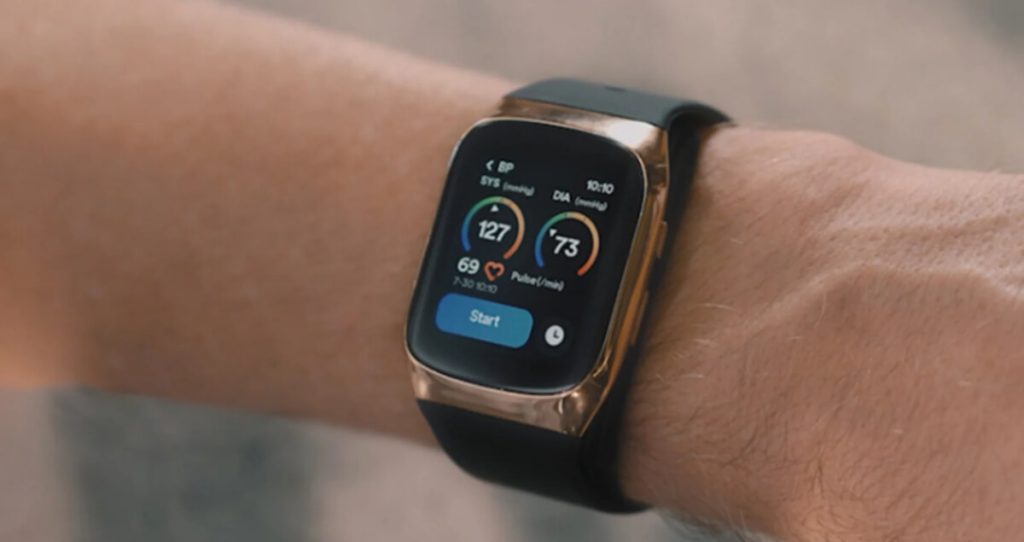 The BP Doctor Pro smartwatch will cost a pretty penny, but it offers quite a lot. Not only do you get blood pressure monitoring through an inflatable cuff, it can also track blood oxygen, heart rate, and your sleep and physical activity.
There don't seem to be any studies validating this watch's blood pressure readings. However, the inflatable cuff makes it accurate enough.
It's comfortable to wear for hours and works well as an accessory whether you're going to school or work – since it looks so good.
Along with its companion app, anyone can find this watch easy enough to use.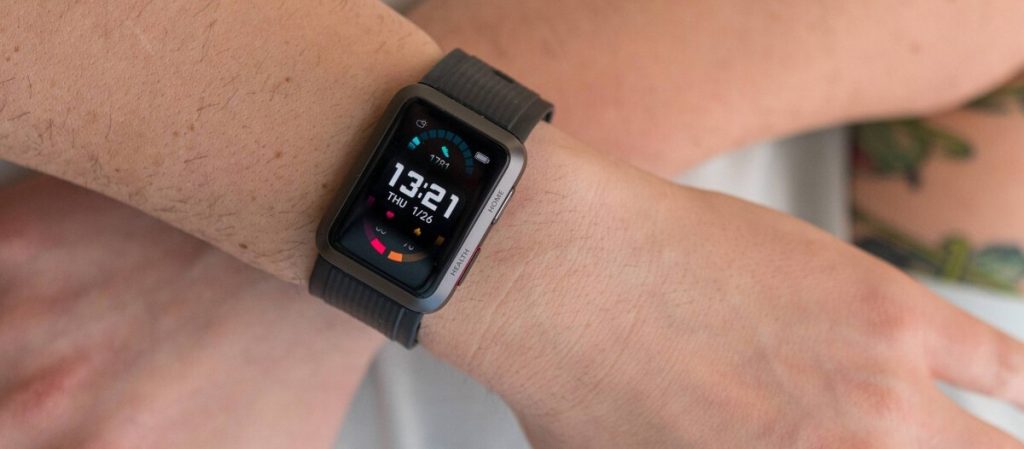 You should think of Huawei Watch D as a medical device rather than a smartwatch. It has features like blood pressure measurement and ECG. It also comes with sleep, SpO2, and fitness tracking, and there's even a temperature sensor.
A Chinese study showed that this watch provides accurate readings. It uses an inflatable cuff to measure blood pressure.
It also comes with two straps, allowing it to fit wrists from 130 to 200mm in circumference. This means that this watch will be comfortable for just about anyone.
Thanks to the touch screen and buttons, this watch is very easy to use, and its 7-day battery life means it can get away without being charged for quite some time.
Pros:
Good battery life
A lot of health-focused features
Accurate results
Cons:
Not available in some markets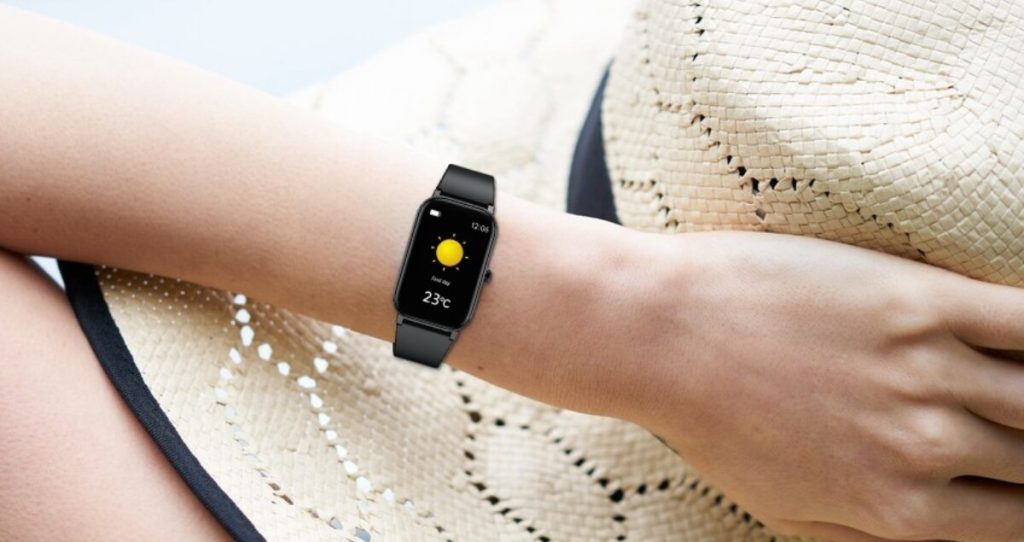 DoSmarter Fitness Tracker is one of the cheapest watches of its kind and won't cost you much more than other fitness trackers.
It's important to keep in mind that it doesn't have FDA approval, so it is not recommended for medical decisions, as the results might not be accurate.
Despite the low price, it can keep track of calories burned, steps taken, and has a heart rate monitor. It can also track your sleep and SpO2.
Don't expect to find a replacement strap on this model. You'll have to make do with the included rubber one, and it may not be the best for small wrists.
Fortunately, you won't have any issues interacting with this watch since the touch screen makes things familiar.
Pros:
Great price
Provides several fitness features
Battery endurance is good
Cons:
Results may not be perfectly accurate
No other strap options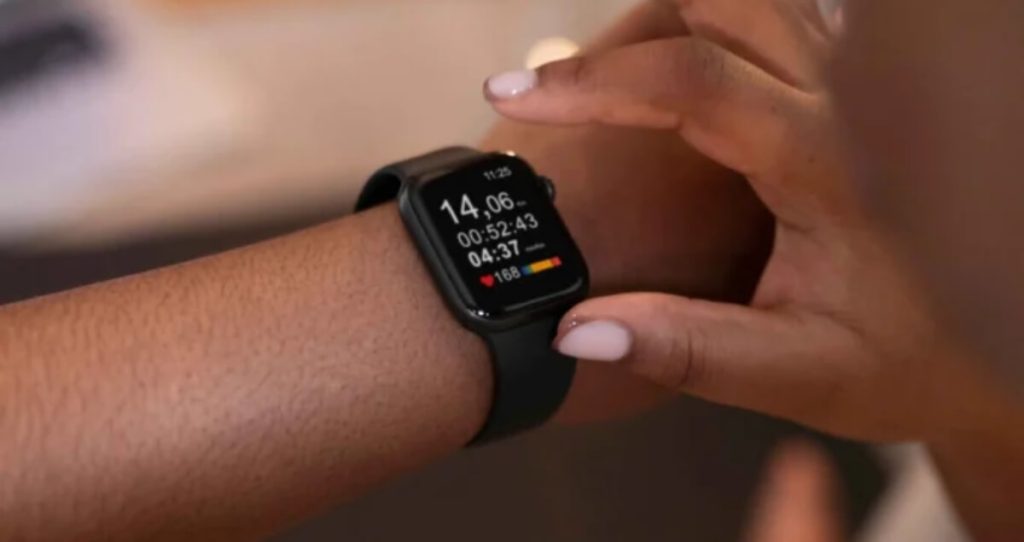 This BP watch can not only replace traditional methods of measuring your blood pressure, but it also looks really good. It comes with a stylish stainless steel strap as well as a rubber one, so you can choose whichever is more comfortable.
It also comes with a heart rate monitor, SpO2 sensor, and blood pressure monitor, and you can track your sleep and measure your steps.
The device can connect to your phone to help you keep track of notifications, uses a touch screen, and can last 10 days with regular use.
It uses a photoplethysmography sensor and doesn't have FDA approval, so it's not recommended that you use it to monitor BP for treatment decisions.
Pros:
Very affordable
Good-looking design
Can last long on a single charge
Cons:
BP results may not be accurate
Top Considerations Before Buying a Blood Pressure Watch
Before you embark on the journey of purchasing a BP watch, it's important to consider a variety of factors that can make or break your decision.
Device compatibility
Essentially all blood pressure wristwatches can connect to smartphones. It's important to make sure that the one you buy can connect to the Android or iOS device you're using.
Brand reputation
While new or lesser-known brands can put out quality products, as a consumer, a more reputable brand can give you the assurance of a product that will do exactly what you need it to do when it comes to blood pressure monitoring.
Price range
The price can have a big effect on the features you get. Inexpensive watches can give you basic features like heart rate and blood pressure measurement, but expect more inaccuracy. Higher costs come with oscillometric tech and more reliable results.
User reviews
Good companies make products with flaws, and unknown companies can sometimes make amazing products. User reviews can be the key to figuring this out, so it is always a good idea to check them.
How to Use a Blood Pressure Watch Effectively
The good thing is that using one of these watches isn't complicated. You just need to follow these steps:
Put the watch on your wrist. Make sure the watch face is on the same side as the back of your hand. It should also be two fingers' breadth from the bottom of your palm.
Fasten the strap. It should be snug enough that you can't force a single finger under it.
Access the BP measurement function. Different devices have different ways to do this, but there is usually a dedicated app.
Start the process with the touch screen or a button.
Hold your arm against your chest so the watch is next to your heart. Don't move as the reading starts.
With an oscillometric watch like Omron HeartGuide, you will feel the cuff inflate. With other devices, the sensor works silently.
You will typically feel vibration feedback once the check is over.
Start managing your heart health now!
Find out what works for you with this 60sec quiz.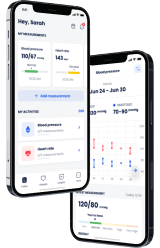 Tips for Maintaining and Calibrating Your Blood Pressure Watch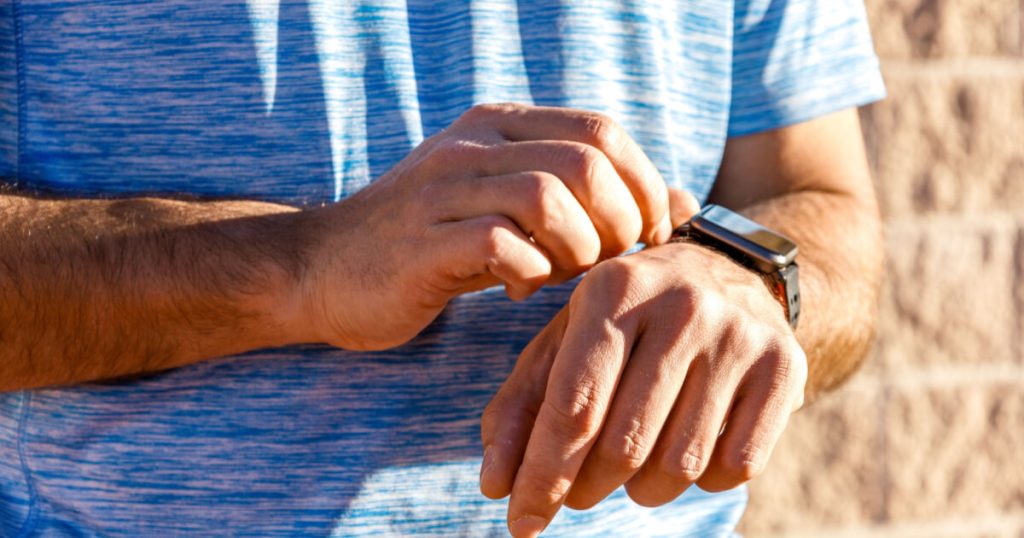 You have to maintain your watch for the best lifespan and results and calibrate it regularly if necessary.
Here are some maintenance and care tips you can follow:
Remove your strap. If it's stainless steel or rubber, you can put it in a bath of warm soapy water and gently scrub it with a soft toothbrush. Rinse it with clean water afterward.
For a leather or cloth wrap, simply use a wet wipe or cloth.
When cleaning the watch face, use a cloth damp with mildly soapy water to wipe it down.
Use a microfiber cloth to dry the strap and watch face.
With some watches, like Samsung Galaxy Watch 5, you will need to calibrate it every 28 days using a regular blood pressure monitor.
It will prompt you when it's time to do so, and you won't be able to use it until this is done. However, it's worth noting that you can recalibrate at any time. Here's the process:
Open the Health Monitor application on your Android phone.
If it's the time of the month to calibrate it, you will see a big "Calibrate the watch" button. If you see that, press it and skip to step 6. Otherwise, go to the bottom of the screen and tap "View History."
Press the three vertical dots at the top-right corner.
Press "Recalibrate."
Press "Recalibrate the watch."
Read the instructions well and press "Next," and then "Get Started."
Follow the instructions to wear your traditional BP monitor and start its reading.
Once done, enter the values you got into the app.
Repeat this process two more times for complete calibration.
Choosing Between a Traditional Blood Pressure Monitor and a Watch
So, as someone with high blood pressure, which is better to manage your health condition? The list below will directly compare these devices.
Blood pressure watch:
FDA-cleared or clinically accurate options are very expensive
Convenient and portable
Allows for checking your BP almost immediately
Most options aren't guaranteed to be accurate
Requires less of a learning curve
Traditional sphygmomanometer:
Affordable for most people
Harder to take around with you
May take a few minutes to wear and set up
The average product can be trusted for health management decisions
Proper cuff positioning and posture may require some education
Generally speaking, if you want to use a device to measure your BP that can confidently be used for health decisions, Omron HeartGuide is the only FDA-cleared watch.
If you want a convenient option that can give you a general idea of your BP, most BP wrist watches might be suitable.
However, other traditional options, such as the Cardi Health BP Monitor, which is worn directly on the arm and gives clinically accurate results, can be a great middle ground. Paired with the Cardi Health app, you can track trends with your heart health and data to take the best care of your body.
Start managing your heart health now!
Find out what works for you with this 60sec quiz.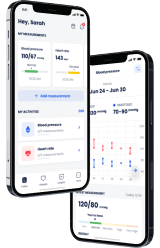 Key Takeaways
Keeping tabs on your blood pressure can be key to a healthier life and reducing the risk of cardiovascular conditions like a heart attack or stroke. Using a BP watch can provide a convenient way of doing this.
Make sure that you understand that most of these devices are not FDA-cleared and cannot be depended on for clinically accurate results. Also, make sure the device is compatible with your Android or iOS device, is within your budget, and has good reviews.
At the end of the day, you should make a choice that matches your personal needs, because these watches can be very useful in daily life, and when paired with an app like Cardi, keeping track of your blood pressure data becomes easier than ever.
Manage your heart health now
Find out what works best for you with this 60sec quiz and get your personalized heart health plan.
Take the quiz
Take part in our 60sec quiz and get a heart health plan tailored just for you.
Take the quiz